Providing Dumpsters For The Atlanta Area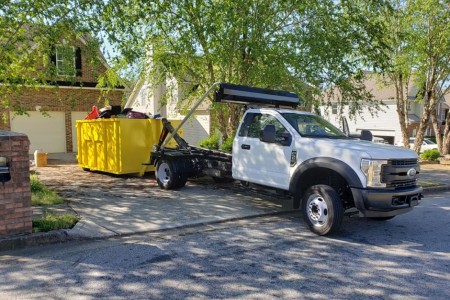 When it comes to dumpster services, you can trust Atlanta's pros at C I S Construction Install Services LLC. We have a variety of sizes for you to choose from when you need a dumpster for your residential or commercial property. Whether you're getting rid of household debris like old appliances or construction material such as sheet rock or wooden planks, we've got the dumpster you need.
Having a dumpster on site during your remodeling project or at the back of your business is the easiest way to get rid of all kinds of trash. Our reliable team will help you choose the best dumpster for your needs and budget. Having one source to deposit your trash into is simple, effective, and easy-- and so is our pickup process. Once the dumpster is full or your project is done, we'll coordinate with you to make sure all of your trash is disposed of properly. As the area's trusted junk removal company, we'll make sure the process is as smooth as easy as possible!
Reliable And Affordable Dumpster Services For You
A dumpster is the most convenient way to get rid of a large volume of garbage without having to worry about it sitting out in the open or looking like an eyesore. If you're remodeling a home or business, tearing out the interior means you have a lot of heavy trash that can ruin even the strongest truck. Dumpsters are large enough to contain all of your trash and can be delivered anywhere in Atlanta. We also offer pickup and replacement services, so you never have to worry about not having enough space for everything you need to get rid of.
Trust The Pros With Your Garbage
Here at C I S Construction Install Services LLC, it's our mission to provide customers with the best customer service through our high-quality services, affordable pricing, and timely deliveries. We provide dumpster services for both commercial and residential properties, so no matter what your needs are, we make renting a dumpster an affordable, effective option. We also offer residential trash pickup services to make it easier for our clients to get rid of unwanted waste.