Eviction Clean Outs & Foreclosure Cleanup Services in Atlanta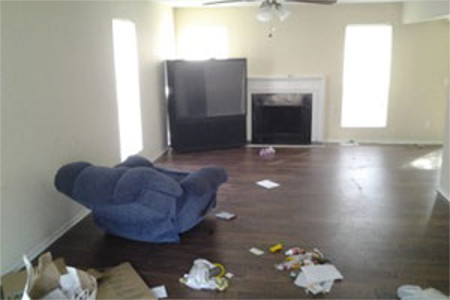 When you are in need of a property clean out in Atlanta, including eviction clean out or foreclosure cleanup, call the professionals at C I S Construction Install Services LLC. You may find yourself in a difficult position if you are evicting a hoarder since there can be loads of junk, debris and even hazardous material left behind. Our professional junk removal company can quickly and efficiently clean out the property, restoring it to perfect condition for your next tenant or for potential buyers.
One of the biggest problems that you may be faced with in an eviction, is that in the weeks leading up to the eviction, the tenant usually does not take care of the property. You could find that they have allowed their pets use the bathroom inside the home house, graffiti the walls, left rotting food in the kitchen or did extensive damage to the interior of the property. Some evicted tenants also leave behind a lot of their belongings, trash and other debris. Whether you need a house clean out, foreclosure cleanup or eviction clean outs and junk removal in Atlanta, give us a call and we can provide thorough property clean out services that will make your rental property look like new again.
Eviction Service Details
Evictions are $595
6 People For 2 Hours (Anything Over Would Be An Additional $40 Per Person Per Hour Fee)
Before And After Pictures
Full Rekey Of All Locks
A Lock Box Set To Your Code Choice
A Broom Swept Property
Cancellation policy - money back with a $95 processing fee
Our Atlanta Junk Removal Experts Provide:
Eviction Clean Outs
Junk Removal
Trashout Services
Haul Away Junk
House Clean Out
Foreclosure Cleanup
Eviction Cleanouts
Property Clean Up
Junk Hauling
Foreclosure Clean Outs
Property Clean Outs
Property Maintenance
Photos of Eviction Clean Outs in Atlanta